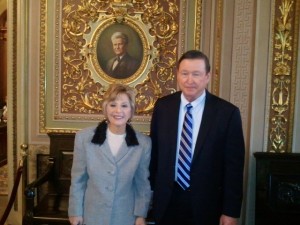 Often we complain about things but fail to correct the problem. Yes, I'm referring to the underserved passenger train service in the west. This conveys the sad possibility that some service may be cut while we are attempting to inaugurate daily service between Los Angeles to Palm Springs and Indio California. It's a simple fact that we have major problems. The Sunset Limited may be eliminated along with other trains such as the Southwest Chief. Here is why:
The Sunset Limited operates three days a week – two nights to reach its destination. This exemplifies Amtrak's worst financially performing train. Federal Legislation requires Amtrak to improve its lowest performing trains. As a result Amtrak completed an internal on how to best improve the fabled Sunset Limited. The study clearly simply revealed that if this train operated daily, it would be one of the best financially performing trains.
Apparently Amtrak took the case to the Union Pacific Railroad. It was told the cost would be approximately $760 million plus, to operate four more daily passenger trains. Unfortunately, the Sunset Limited operates almost 80% on the line owned by the Union Pacific Railroad. As a result nothing has happened.
Recently Amtrak CEO, Joe Boardman, stated that the BNSF Railroad, over which the Southwest Chief operates most of its route, does an excellent job. It appears too good! Amtrak pays BNSF an on time bonus, causing Southwest Chief to become a very expensive train to operate, and one of the first trains to be eliminated. According to Mr. Boardman, this cancellation would occur if Congress does not approve full funding as requested by Amtrak. You can bet full funding will not happen. At this point I will refrain from comment as to why Amtrak does not have any Western representation on the Amtrak Board of Directors.
Another problem: The Western Long Distance trains are aging and no new ones have been ordered. Yet, new passenger cars were ordered for the Eastern trains. It appears the Western part of our country is being ignored. Therefore, it was decided to bring this information to the attention of some members of our California Congressional delegation, along with Amtrak senior management.
My colleague and friend Greg Pettis, a Cathedral City, CA Councilman and current Chair for the Riverside County Transportation Commission, and I arrived in Washington, DC on Sunday, October l6, 2011. Co-incidentally, we landed at Baltimore Washington International Airport just as Rail Volution 2011, a huge event, attended by politicians, decision makers, business leaders was getting started. An event committed to creating transit for livable communities. Subsequently, I was fortunate to attend several compelling conferences dealing with transit planned communities, as described below.
Gregg and I met with Joe McHugh Amtrak Vice President of Government Affairs & Corporate Communications. He expressed concern regarding the overall situation of Amtrak funding, given the financial situation in Congress.
Joe was very supportive of the issues facing the West, especially California. He discussed the various issues endeavoring to satisfy our concerns, but he pretty much indicated a stalemate existed with Sunset Limited and the Union Pacific Railroad. He was very interested in a new corridor train from Los Angeles to Palm Springs/Indio, and wanted to work with us to achieve this goal.
Mr. McHugh stated that he and Steven Gardner Amtrak Vice President of Policy & Development would be in Orange County, California the following week to address the LOSSAN Board of Directors. LOSSAN was forming a new Joint Powers Agreement and the meeting with the LOSSAN Board by Amtrak was to clearly demonstrate that Amtrak would remain a strong partner in California passenger rail service.
I had a separate meeting with Emmet Fremaux Amtrak Vice President, Marketing & Product Management. We talked at length regarding the new proposed passenger train from Los Angeles to Palm Springs and Indio. I indicated that we could possibly showcase this service by providing a demonstration weekend train for the Coachella Fest 2012 weekend. Emmett was truly enthused about this prospect after a very informative discussion. He immediately authorized his staff to initiate the process so the demo-weekend train would happen.
I was delighted to meet with Matthew Nelson, Legislative Assistant for US Senator Dianne Feinstein. Our talk also concerned the Western long distance trains, the proposed new passenger service between Los Angeles to Palm Springs/ Indio and of course the Sunset Limited.
Matthew knew that the Sunset Limited was at the bottom of the financial heap of long distance trains, and asked how to deal with it. I explained that the Sunset Limited only runs thrice weekly, and that if it were a daily train according to Amtrak's internal study, this train would become one of the top performing trains. I also advised that the Union Pacific Railroad wanted to charge Amtrak 760 million plus dollars to run four additional trains a week. Keep in mind that about 80% of the route of the Sunset Limited runs over the tracks of the Union Pacific Railroad.
Mr. Nelson stated that Senator Feinstein is very supportive of passenger rail in general and especially for California. He asked that I keep the Senator's office informed regarding passenger rail issues, which I plan to do.
Next: my visit with Senator Barbara Boxer and her Legislative Assistant, Lynn Abramson. (I was fortunate to have my picture taken with Senator Boxer, and then the Senator's Legislative Aide Kyle Chapman took another picture with my phone camera.) Meanwhile, Senator McCain offered Amendment No.739 which according to the National Association of Railroad Passengers could have a detrimental effect on public transportation. (NARP E-mail by Ross Capon Wednesday, October 19, 2011). Senator Boxer offered a counter amendment and immediately went to the Senate chamber for Senate discussion and vote.
At the same time, I was in a detailed discussion with Lynn Abramson, pointing out the current situation with Sunset Limited, and the uncertain future of Western long distance trains. Lynn was deeply interested as I explained the problems we are facing regarding the daily train from Los Angeles to Palm Springs/Indio.
Lynn asked that we keep her office and Senator Boxer's up to date on the situation. Lynn re-emphasized that the Senator remains supportive of passenger rail in California. After this lengthy, frank discussion, I went to the Senate Gallery. Here I watched first hand as Senator Boxer spoke to the members of the Senate regarding the counter amendment. Then a vote was taken. Senator Boxer prevailed. Witnessing our government in action is a profound experience.
Our special thanks to Senator Boxer and her staff for the ongoing support of passenger rail in general. I must also add that Mr. Alton Garrett, the local senior staffer for Senator Boxer has been vital in assisting our efforts. Alton is very easy to work with and very down to earth.
On another front Greg Pettis had positive meetings with the staff of Congressman Mica, Gus Billirakis, Raul Grijalva, and very assuring talks with staff members of Congresswoman Gabrielle Giffords.
Greg was non committal in his meeting with Frank Cullen, chief of Staff of Congresswoman Mary Bono-Mack, who represents the 45th California Congressional District which includes the greater Coachella Valley area.
It does make a difference to visit members of Congress with an educational theme. That's what we do and that is what we are all about. We can make a difference.
November 7, 2011
Robert Manning President, Southwest Rail Passenger Association Executive Vice President Rail Passenger Association of California and Nevada